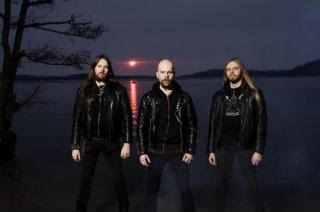 Groupe suedois de doom heavy depuis début 2000,
Grand Magus
a peu à peu integré à ses débuts bien doom et plombés , un son plus heavy, dynamique et épique dans la ligné de la NWOBHM ( cf Iron Maiden) notamment dans "Iron Will" et "Hammer of north".
La voix est heavy mais pas irritante comme certains vocalistes suraigues du genre. Les guitares sont grasses et lourdes,et font la part belle aux soli avec une prod assez léchée.
Sans oublier toujours ces mélodies faciles à retenir tout en tapant du pied et headbanguant.
Les thèmes paiëns et nordiques sont plus que présents dans le "Hammer of the North" reference au marteau de Thor et la mythologie viking.
Grand Magus (2001) =>
Wheel of time
Monument (2003) =>
Ulvaskall
Wolf's Return (2005)=>
Wolf's return
Hammer of the North (2010)=>
I, the fury
et
Hammer of the North
TOP TRACKS
Nouvel album en écoute sur Deezer
"The Hunt"
"Valhalla rising" est le titre fort et imparable!