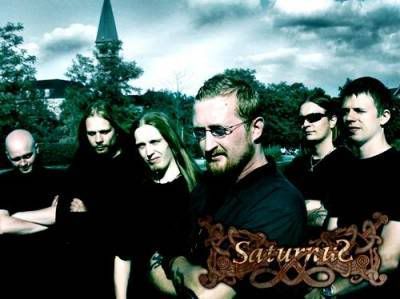 Officiel
Myspace
Les danois de
Saturnus
jouent un
doom-
death
très romantique et mélodique... une belle voix claire alternant avec des growls déchirants et puissants. Un groupe qui compte parmi les grands du doom-death metal!
Tous leurs albums sont empreints d'une mélancolie
extrème
et d'une beauté sombre...
J'ai une préférence pour "
Veronika Decides To Die"
basé sur le roman de Paulo Coehlo dont le thème est le mal-être et le suicide...
La place des claviers est assez inhabituellement dominante mais vraiment bien integrées et avec talent!
Paradise Belongs To You - Album (1997)
For The Loveless Lonely Night - EP (1998)
Martyre - Album (2000)
Veronika Decides To Die - Album (2006)=> album en streaming
Saturn In Ascension - Album (2012) ci-dessous...
Un nouvel album réussi et varié qui s'ouvre par une litanie sur fonds de choeurs angéliques et d'orgues(Litany of Rain). Nombreux passages parlés et doux; toujours cette voix d'outre-tombe écrasante, une lead guitare plaintive et ultra mélodique, des claviers, des passages acoustiques, bref tout ce qui fait que Saturnus joue un doom si attachant et riche, bien loin d'être ennuyeux!
Mention titres "coup de coeur" à Wind Torn, A Lonely Passage (acoustique), Mourning Sun que ne renierait pas My dying Bride, Call of the raven Moon tout en arpèges émotionnelles et texte parlé, violoncelle, flûte légère...
Le dernier titre bonus est un remix de 94 avec une production moyenne et des éléments blackisants(?) qui dénotent avec leur son actuel : dispensable amha.